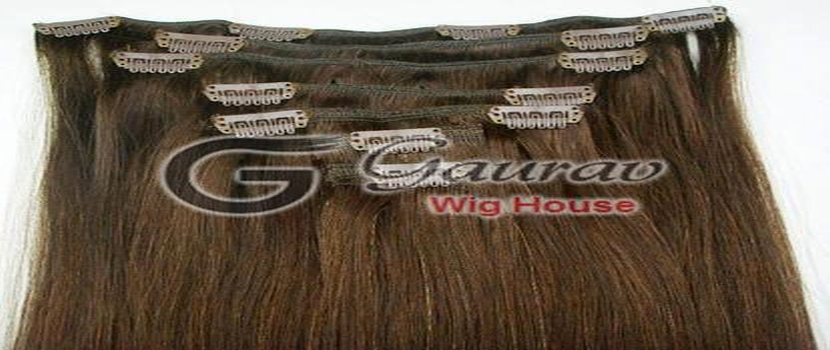 With the change in the time, the fashion trends also keep on changing. Sometimes, people prefer to carry very long hair and the very other time they prefer the short hair. But once the hair is cut, it is very difficult to grow them back within a short duration of time. At that moment, the hair extensions come to the rescue. These hair extensions help in making the hair look a lot more longer than their original length.
Description of the hair extension clips: -
There are two methods for the production of the hair extensions. Either the normal human hair is used for the purpose of making the extension wig or the synthetic hair are used. Any of these once gathered are then attached to the thin metal clips. With the help of these metal clips, the hair extensions are attached to the original hair to make them look longer than before.
Out of the two different types of hair extensions that are available in the market, the human hair extensions are easy to play with. These can easily be coloured, curled, straighten, dyed, and permed. On the other hand, the synthetic extensions are not able to handle and retain all such treatments for a longer duration of time. Nowadays, most of the women prefer to use the human hair extensions because of the stated reason.
Suggestions for the manufacturers of hair extension clips: -
The manufacturers should source all the materials including the artificial hair, chemicals required and the hair clips in this procedure from the reliable vendors in the market.
Due to the huge demand for the hair extension clips, the manufacturers of the same can earn high revenue by providing some useful services to satisfy the customers.
They should offer their product at a reasonable rate in order to have an edge of over the competitors a captivate a volume of customers.
The manufacturers of the hair extension clips should avoid the usage of harmful chemicals for making the hair extensions
They should have good contacts with the numerous logistics companies, so as to ensure easy and timely delivery of the hair extension clips to the end customer.
They should be equipped with an adequate warehousing facility, to meet the bulk and urgent requirements of the market on a timely basis.
By following the above-stated suggestions, the manufacturer of the hair extension clips can earn gobs of money with a long list of satisfied patrons.
This entry was posted on July, 01, 2020 at 11 : 33 am and is filed under Hair Extensions. You can follow any responses to this entry through the RSS 2.0 feed. You can leave a response from your own site.