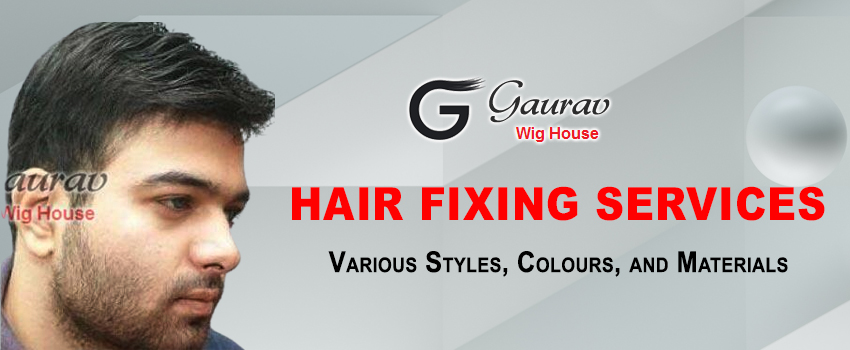 Hair Fixing Services in Delhi are available in different styles, colours, and materials. These services are commonly offered by hair clinics, salons, and specialised centres.

Are you looking for professional hair-fixing services in Delhi? Yes. There are lots of service providers who are serving the needs of customers with the best products. These services commonly refer to the treatments and methods that support the treatment of hair loss, thinning hair, or even baldness. These services are commonly offered by hair clinics, salons, and specialised centres. The prime aim is to improve the look of the hair and boost self-confidence.

Before choosing the hair fixing service, it's essential to speak with professionals who focus on hair restoration. They can calculate your individual hair condition and advise on the most appropriate choice according to factors such as level of hair loss, hair kind, budget, and personal choices. Consider the fact that not all techniques are appropriate for everybody, and results can be different.

Why choose hair-fixing wigs?
If you are interested in choosing hair wigs, then you should know about their proper usage. They assist in the coverage of the hair loss due to the medical conditions. The medical condition can be chemotherapy, alopecia, or more genetic issues. It is extremely helpful in boosting the look by modifying the colour, hairstyle, and length. It is helpful in concealing thinning hair or bald spots. They provide a faster solution for people who wish to have a special look for a special event.


Different Kinds of Wigs Available in the Market:

The diverse kinds of wigs depend on their construction and attachment techniques.

• Lace Front Wigs: The wigs have sheer lace stuff at the front that produces a natural-looking hairline.

• Full Lace Wigs: The complete base is made of lace, permitting flexible styling and a natural look.

• Synthetic Wigs: Prepared from synthetic fibres, these wigs approach pre-styled and are often more reasonable.

• Human Hair Wigs: Prepared from real human hair, these wigs present a more natural appearance and can be styled similar to real hair.

• Monofilament Wigs: The wigs possess a cap made of a thin stuff that mimics the look of the scalp, offering a more realistic appearance.
How do I choose the right wig?


When selecting a hair-fixing wig, consider factors that include:

• Material: You can choose between synthetic or human hair wigs, depending on your budget and choices.

• Style: select a wig style that suits your desired look, whether it's long, short, curly, straight, etc.

• Colour: Choose a colour that matches your natural hair colour or choose a diverse shade for a new appearance.

• Relieve: Consider the cap's building and how comfy it feels on your scalp.

• Preservation: Human hair wigs might need more styling and maintenance, while synthetic wigs are available pre-styled.
Wigs can be effective and flexible for people dealing with hair loss or looking for a change in appearance. When choosing Hair Fixing Services in Delhi, consider your tastes, lifestyle, and the level of ease and maintenance you're eager to commit to.